Messenger Community News names top 20 young SA athletes to watch in 2021
From rowers to runners, footy players to cricketers, these are The Messenger's top 20 emerging SA sports stars set to reach new heights in 2021.
January 6, 2021 – 11:29AM
The 2021 list of The Messenger's annual top 20 emerging SA athletes to watch is stocked with talent and spread across a variety of sports.
Some are young guns who have made headlines while others have flown a little more under the radar.
Last year's group included footballer Riley Thithorpe who was selected by the Crows at November's AFL National Draft, Scorpions cricketer Emma De Broughe and state champion BMX rider Imogen Healy.
Now it is the 2021 crop's turn.
Here are the names to keep an eye out for this year:
ADAM HOLLAND (ROWING)
The Year 12 Scotch College student was named the 2019/2020 Rowing SA junior male champion.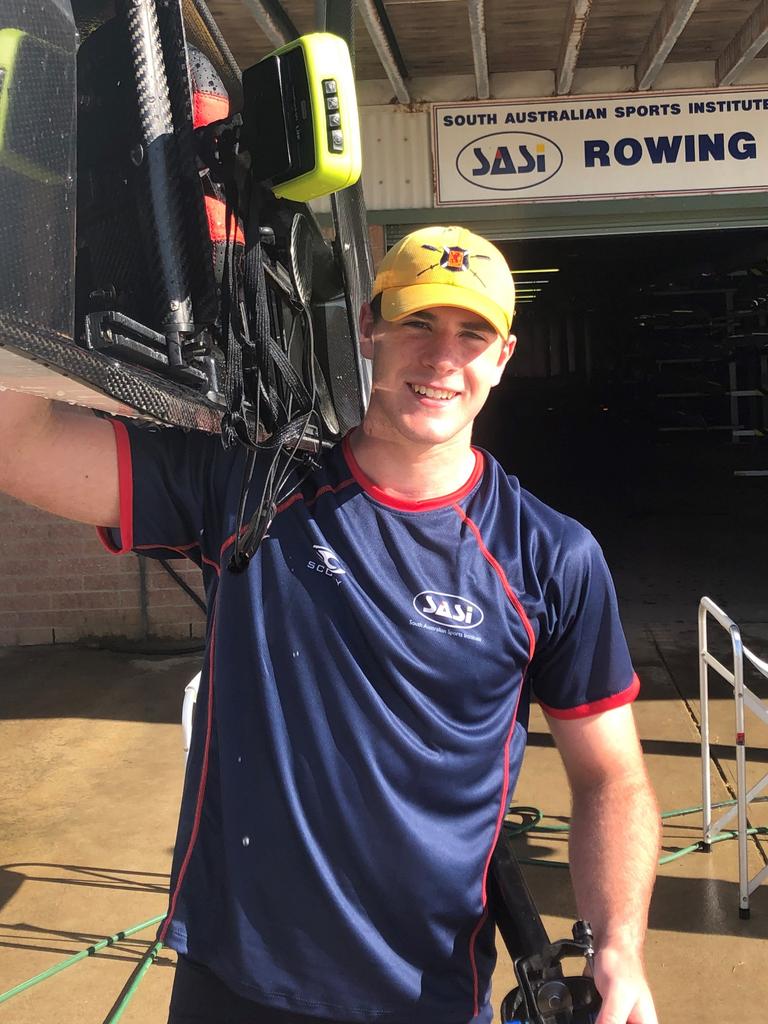 Scotch College rower Adam Holland. Picture: Supplied, Rowing SA
He was also part of the school's First Eight which was named the Champion Schoolboy Crew this past season.
Holland has shown immense potential on the water and on the ergometer (indoor rower), against national benchmarks.
He is in the South Australian Sports Institute program and is a big chance to make the Australian junior team in 2021.
AIDAN KONOPKA (ATHLETICS)
Konopka won the 2019 junior boys Bay Sheffield sprint in 13.064 seconds off 9.75m.
And since then the Coastal Districts Athletic Club member has gone from strength to strength.
He represented Sacred Heart College at this year's Sports Association for Adelaide Schools Achilles Cup and finished second in the under-16 division one 100m and under-16 division one 200m.
Konopka competed at the South Australian Athletic League's Kensington Gift, which was live streamed by The Messenger and The Advertiser in November, and he finished fourth in the under-18 boys 120m, 0.8 seconds off the winner.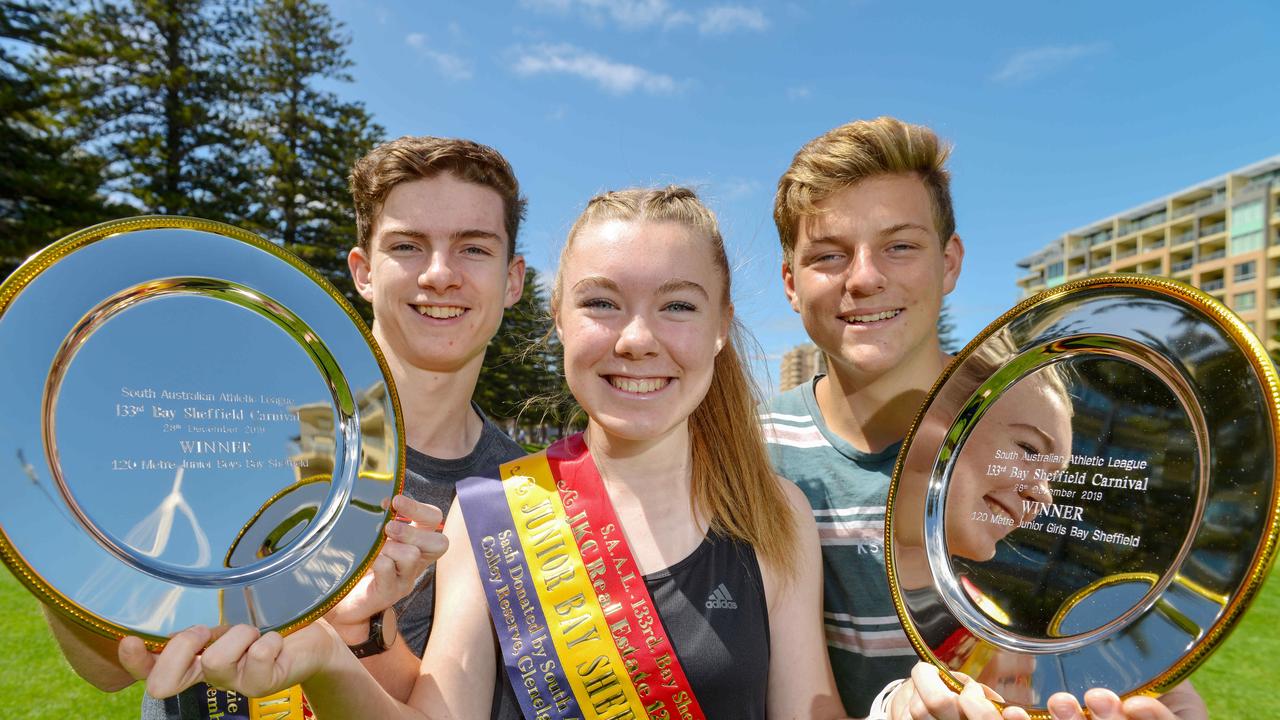 Aidan Konopka (L) with Katie Woodmore and Max Disbury. Picture: Brenton Edwards
BLAYNE O'LOUGHLIN (FOOTBALL)
The nephew of Sydney Swans AFL premiership great Michael O'Loughlin is one to watch ahead of next year's AFL draft.
O'Loughlin, who plays for North Adelaide's under-18 side, has been selected in the 2021 SANFL under-18 talent squad.
The 17-year-old defender is part of the Crows' Next Generation Academy and is a good user of the footy.
O'Loughlin, who graduated from Roma Mitchell Secondary College this year, was also crowned the 2020 South Australian Aboriginal Secondary Training Academy Sports Person of the Year.
The award comes after he finished third in the SANFL under-18 best and fairest count and runner up in North Adelaide's under-18 best and fairest.
COOPER HOCKING (LAWN BOWLS)
The Year Nine from Cedar College has been playing lawn bowls since he was seven.
At just 14 years old, Hocking lines up with Adelaide Bowling Club's Premier One side and was set to feature in the grand final but that was cancelled due to the COVID-19 pandemic.
In 2017 and 2018, Cooper won the gold medal for the Primary School Lawn Bowl Championships.
Then, last year, he made history as the youngest player selected for Bowls SA's new Super League.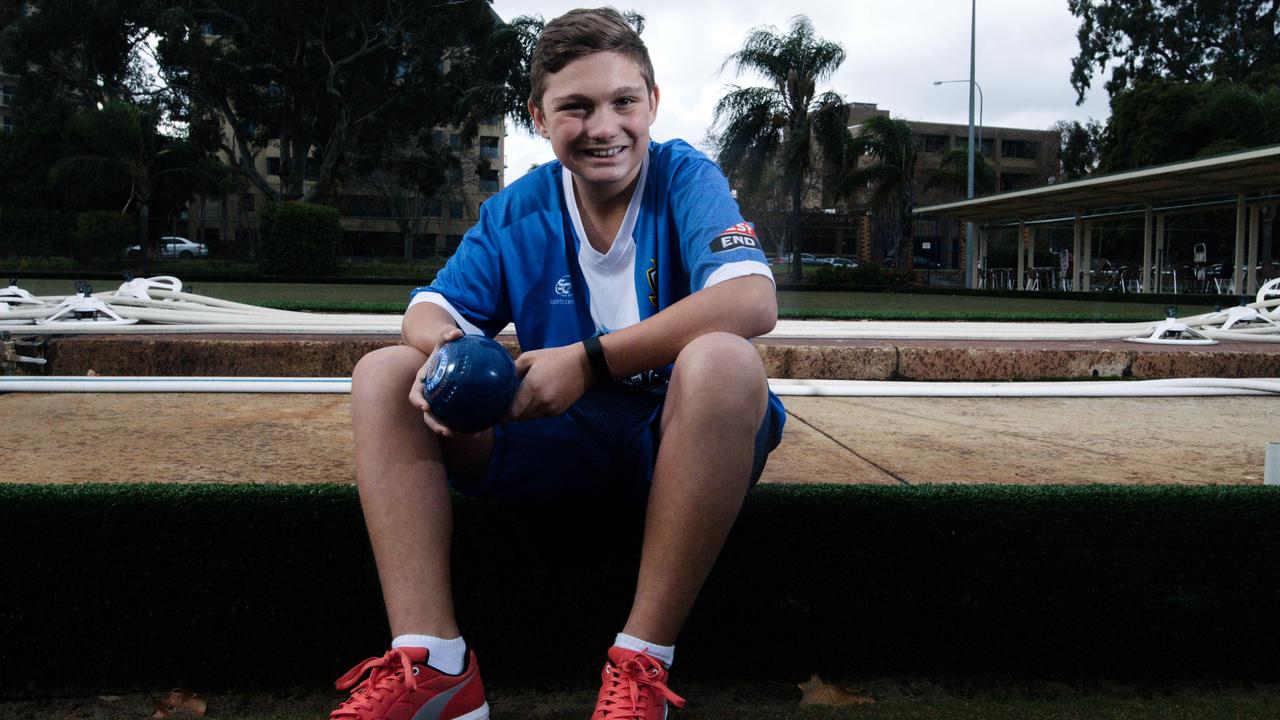 Adelaide Lawn Bowls rising star Cooper Hocking. Picture: Morgan Sette
DARCY DAWBER (SOCCER)
Darcy Dawber has sporting ability running through his blood but 2021 is set to be the year for the youngster to shine.
Dawber's older brother Matthew is a seasoned performer in SA's top flight NPL and sister Chelsie Dawber shone on the national W-League stage with Adelaide United last summer.
And he is paving his own path with the round ball.
Dawber starred for Adelaide City in the Football SA under-17 cup final, which was live streamed by The Advertiser and The Messenger, despite a 2-1 loss to Adelaide Comets.
Not only did he score the Black and Whites' sole goal of the match but he was also awarded with the best-on-ground medal.
DEMI BATES (KAYAKING)
Bates enters Year 12 at Henley High this year as one of its top kayakers.
She claimed six gold and three silver medals at the 2020 Australian National Kayaking Championships in the under-16 age group earlier this year.
Bates is part of the Olympic Hopes team which was supposed to compete in Hungary in September this year but was cancelled due to COVID-19.
She was also nominated for a Messenger School Sports Award this year.
Henley High kayaker Demi Bates. Picture: Tom Huntley
ELLA WILSON (CRICKET)
The Southern District cricketer claimed the 2019-2020 Shelley Nitschke Medallist as the Twenty20 women's competition player of the series.
The right-handed batter made 149 runs at 18.63 across eight Twenty20 matches this past season to claim the award.
She also helped the Stingrays win last season's Twenty20 final.
Wilson, who was also in the junior girls state squad, joined Southern District about six years ago.
So far this Twenty20 season, Wilson has further improved, making a total of 184 runs at 24.9 from nine matches.
HANNAH EWINGS (FOOTY)
Ewings debuted with North Adelaide's SANFLW side in round one of this season at just 15 years old.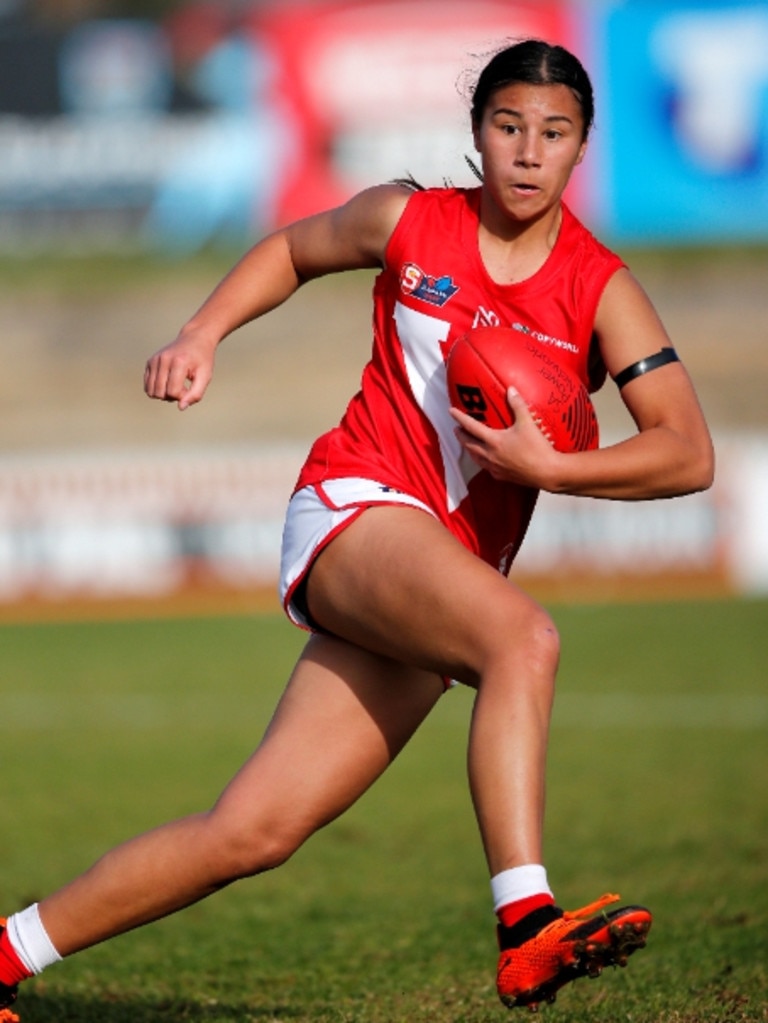 North Adelaide youngster Hannah Ewings. Picture; Supplied, SANFL
The exciting forward from Whyalla hails from Roopena Football Club and began playing at five years old in the boys' teams until she was 14.
Ewings featured in the Roosters' best players in seven of her 11 appearances and eventually helped her side win its first women's premiership on the back of an undefeated campaign.
She was named on a half-forward flank in The Advertiser SANFLW Team of the Year, and also claimed the league's rising star award, handed out to players under 21.
Ewings is a member of the SANFL's under-18 girls Academy and has one more year in the SANFLW before she is eligible to be drafted.
INDY MAHER (BASKETBALL)
She's only 13 years old but Indy, who has basketball in her blood, is forging her own path in the sport.
Her dad, Brett Maher, is a three-time NBL champion with the Adelaide 36ers, a two-time grand final MVP and four-time NBL All-Star.
Indy's mother, Tanya Maher, was also a hoops star with West Adelaide, then with Sturt in the SA Women's Premier League, formally known as the ABA.
The youngster is part of Sturt's under-14 girls team and has featured with the Sabres in the past few state and national titles.
IZZY VINCENT (SWIMMING)
The Norwood Swimming Club member has her sights firmly set on making Australia's Paralympic team in 2024.
At just 14, Izzy, who has sacral agenesis – the same condition as Paralympian Kurt Fearnley – holds 27 national and 38 state records.
She also participated in the SA Short Course Championships, which were live streamed by The Advertiser and The Messengerin October.
During the state short course meet, Izzy won gold in the multi-class 50m breaststroke, 100m breaststroke, 200m freestyle and 100m backstroke, 400m freestyle, 50m freestyle, 100m individual medley, 200m individual medley and 100m freestyle.
She broke Provisional National Open Records at the short course titles in the 50m, 100m, 200m and 400m freestyle, as well as in the 100m individual medley.
In further recognition of this star's achievements, Izzy won the Matthew Cowdrey Trophy for the best Multi-Class Performance at the SA Short Course Championships.
She is also part of Pembroke School's Athlete Development Program.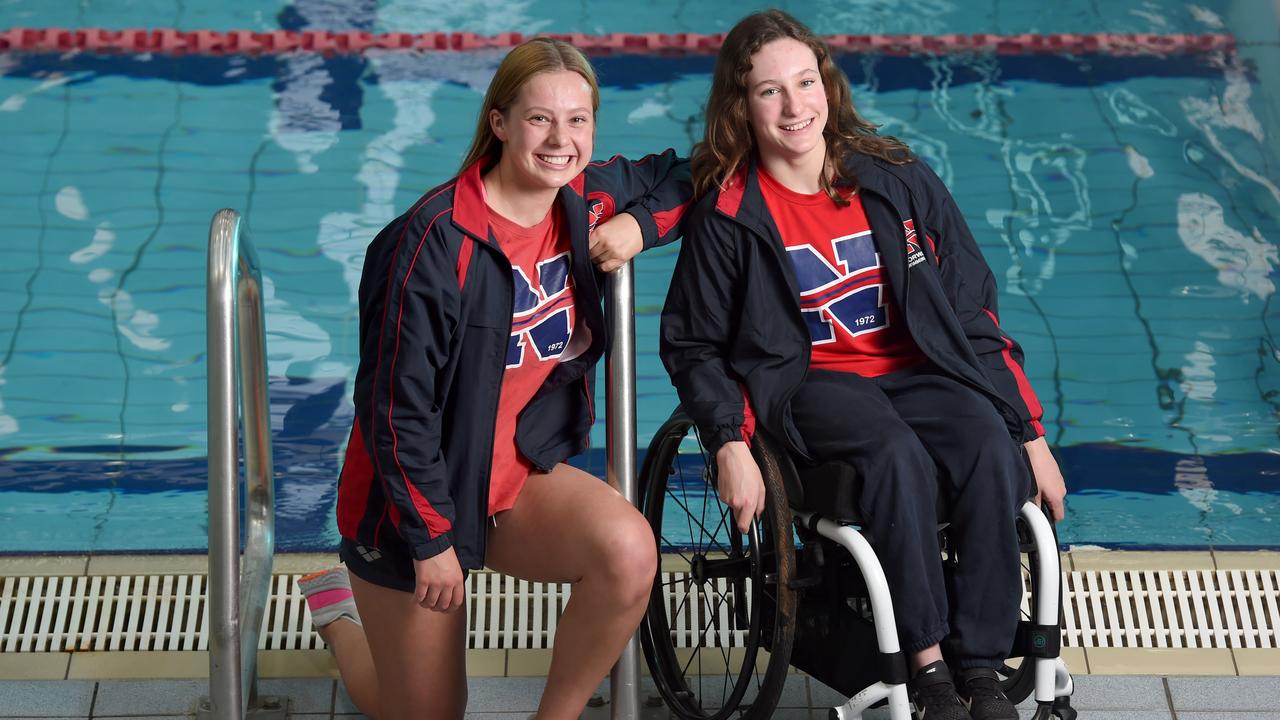 Norwood Swimming Club members Izzy Vincent (R) with (para swimmer) and Emily White ahead of last year's SA Short Course Swimming Championships. Picture: Naomi Jellicoe
IZZY BORLASE (BASKETBALL)
As the daughter of four-time Port Adelaide premiership player Darryl Borlase and former Australian netballer Jenny Borlase, this star is naturally talented.
In August, Borlase, who lines up with Forestville's women's team, was offered a Centre of Excellence Scholarship at the Australian Institute of Sport.
The program is based in Canberra and Borlase will begin in 2021.
It allows the best young players from around Australia to live and train together in a high-performance environment with the assistance of elite coaches.
Although the COVID-19 pandemic stopped the NBL1 season from going ahead, Borlase starred in the Adelaide Basketball Challenge with the Eagles.
She netted a total of 148 points from eight matches and is said to be strong with the ball as well as possessing a super crossover move which rattles opponents.
JESS WILLIAMS (MOUNTAIN BIKE RACING)
The St John's Grammar School student took up mountain bike racing in mid 2017 and won her first state championship that same year.
The Adelaide Mountain Bike Club member then claimed multiple podium finishes at the 2019 Victorian XC State Championships in 2019, leading to a third-place finish overall.
She won the MTBA National Cup in the under-15 women's race and, her team of four girls finished first in the Bike SA Dirty Weekend, 12-hour race, beating all other boys teams.
In 2020, prior to COVID-19 shutting down the country, Williams finished fifth out of 11 riders in her first year competing in the under-17 women's at the Mountain Bike Australia Nationals.
She hopes to be selected on the Australian team for the 2023 UCI World Championships and is set to be a big performer at next year's national events, should they go ahead.
JETT CARLIN (HAMMER THROW)
Carlin is proving to be one of the state's best hammer throwers.
The 17-year-old Trinity College student competed the Achilles Cup in September and set a new Open Hammer Throw record of 64.06m (6kg), breaking the record set in 1997 by 2.93m.
He also won the division one Open Shot Put, throwing 12.6m and finished second in the top tier open discus (32.23m.
At the State Track and Field Championships in February, Carlin was the defending title holder of the open men's hammer throw and won with a throw of 50.57m with a 7.26kg hammer.
He also finished first in the under-10 hammer throw (6kg/58.53m) and under-18 hammer throw.
Carlin is also part of Athletics SA's Emerging Athlete program.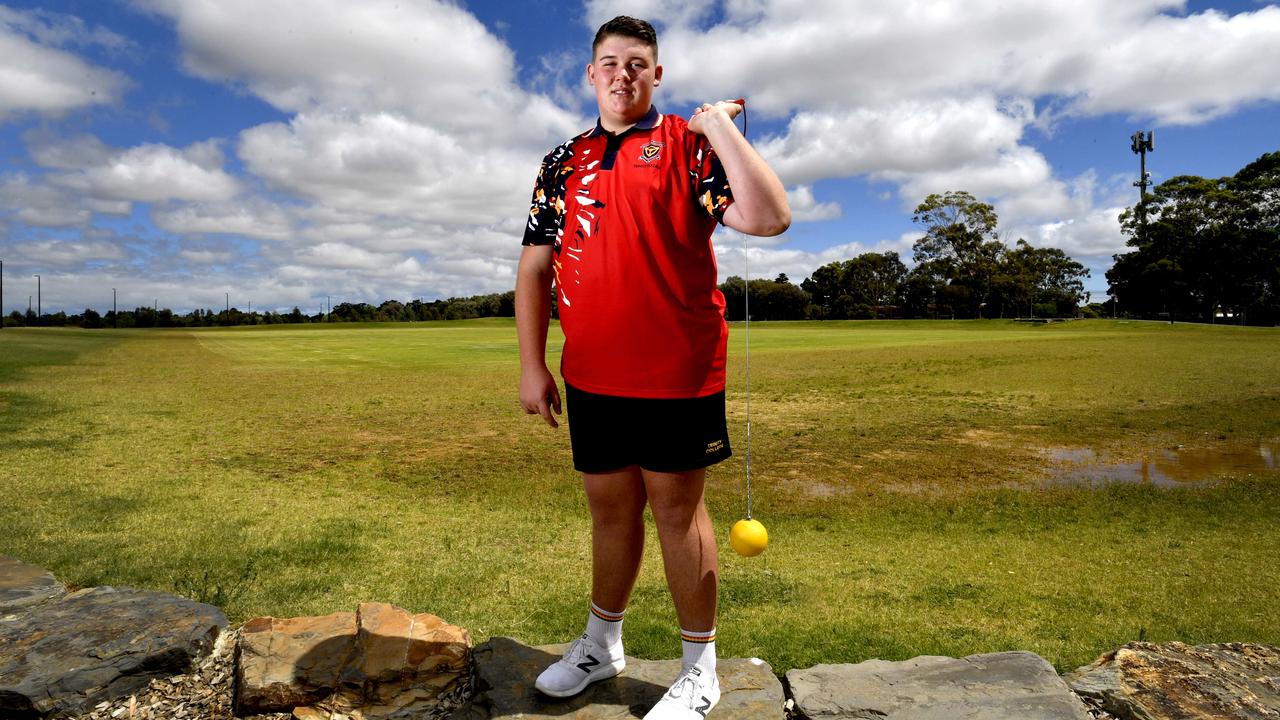 Hammer thrower Jett Carlin is one to watch in 2021. Picture: Sam Wundke
JED OBST (CRICKET)
The Scotch College cricketer is the son of an Olympic Gold Medallist and an Australian Rules footballer.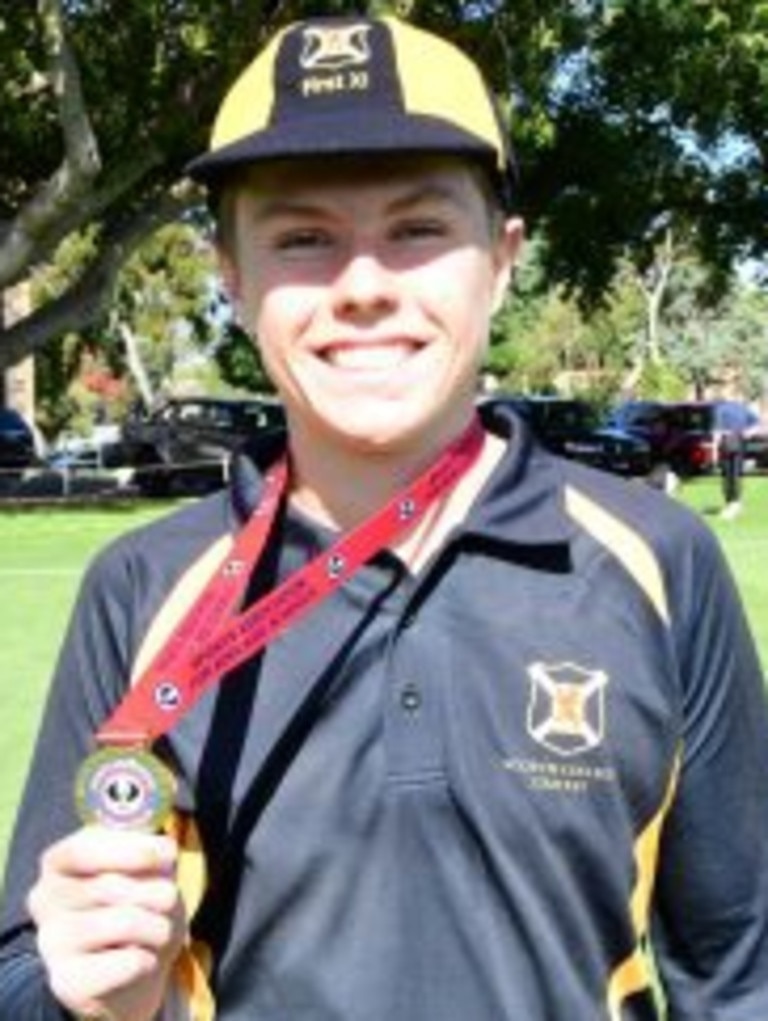 Scotch College cricketer Jed Obst. Picture: Supplied, Sports Association Adelaide Schools
Obst's mother is Juliet Obst (nee Haslam) who won gold medals with Australia's women's hockey team at the 1996 Atlanta and 2000 Sydney Olympics.
His father, meanwhile, is Port Adelaide SANFL dual premiership player and Melbourne Demons midfielder Andrew Obst.
But Obst seems to be steering towards a promising cricket career.
The youngster was one of the school's best during the Messenger Bowl Twenty20 campaign, smashing a total of 106 runs at 26.50, including four fours.
He then went on to help Scotch create history, winning its first school cricket title, beating Prince Alfred College.
Obst was awarded man of the grand final match, top scoring with 41 runs, before wicketkeeping g during PAC's innings and taking a catch off a Harry Lemmey bowl.
JASE BURGOYNE (FOOTBALL)
Another father-son prospect for Port Adelaide is set to light up the footy field in 2021.
Jase is the younger son of Power premiership midfielder Peter Burgoyne and the brother of Trent, who is already on Port Adelaide's list.
The Woodville-West Torrens half-back flanker averaged 28 disposals at under-18 level in 2020.
Burgoyne showcased his skills at the SA All-Stars match in October and it was his run and carry that proved to be his strength.
At 184cm he is bigger than his older brother and is one to watch this year after being one of 30 players selected in the 2021 SANFL under-18 State Talent Hub.
KATARINA KOWPLOS (SHOOTING)
Kowplos is an exciting athlete set to make her debut at the Tokyo Olympic Games, making her one to watch when they finally kick off.
The rising star, who took up the sport about four years ago, will compere in the Women's 50m Rifle 3 Positions.
Her selection on the Olympic team came after she topped the Shooting Australia selection trials leaderboard, defeating Emma Adams and Maria Rebling in the 50m 3 Position Rifle trials.
Kowplos made her international debut in 2017 when she competed in the youth division of the Oceania Championships and won silver in the 10 metres Air Rifle.
The Gulfview Heights athlete and Golden Grove High School graduate joins fellow Croweaters Alex Hoberg and Dane Sampson on the Olympic team.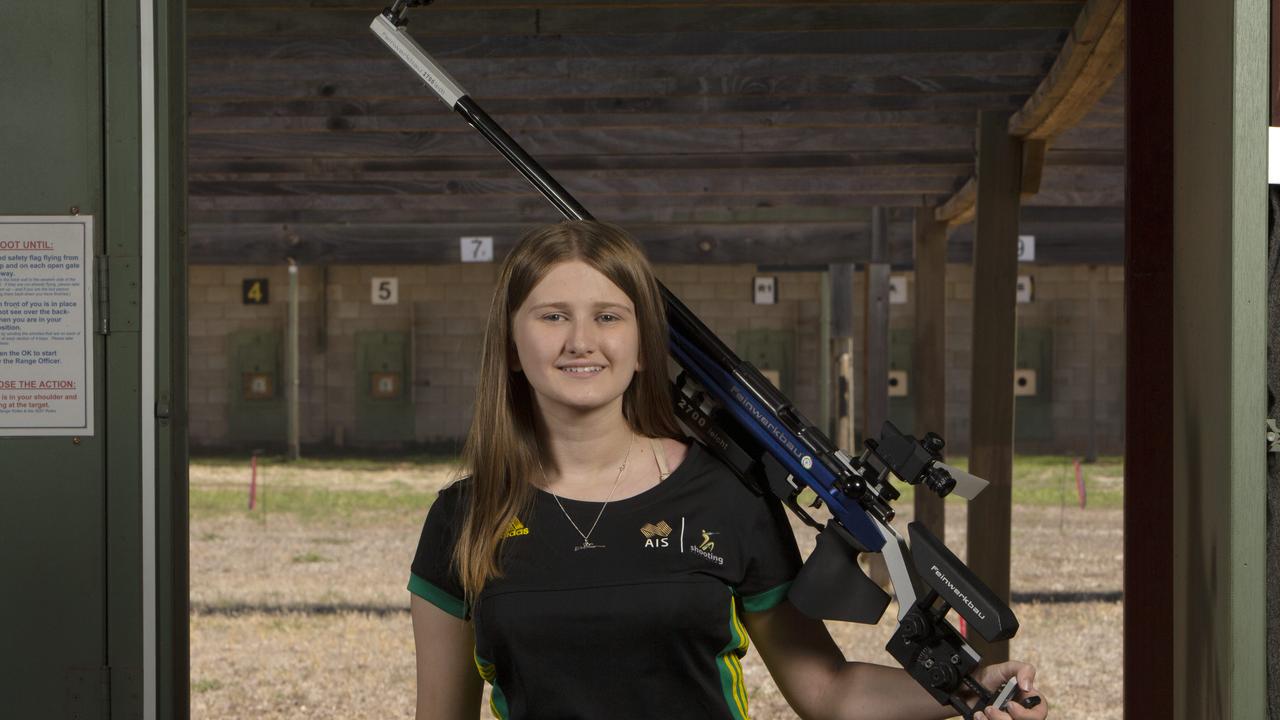 Katarina Kowplos will make her Olympic debut at the Tokyo Games this year. Picture: Emma Brasier.
LUCY AUSTIN (NETBALL)
Austin enjoyed a rapid rise during the 2020 Premier League netball season with Matrics and is set to take it to another level this year.
The tall, unpredictable goal shooter helped her team to a come-from-behind victory in last year's grand final against Contax.
And the 18-year-oldwas awarded Marg Angove Trophy for the Most Valuable Player on court during the title decider.
It was a far cry from where Austin started 2020, having played 2019 with the reserves and being unsure if she would fit into the top tier team.
But she stepped up when it was needed the most in the grand final in the absence of Matrics skipper and fellow goalie Laura Packard, who was injured.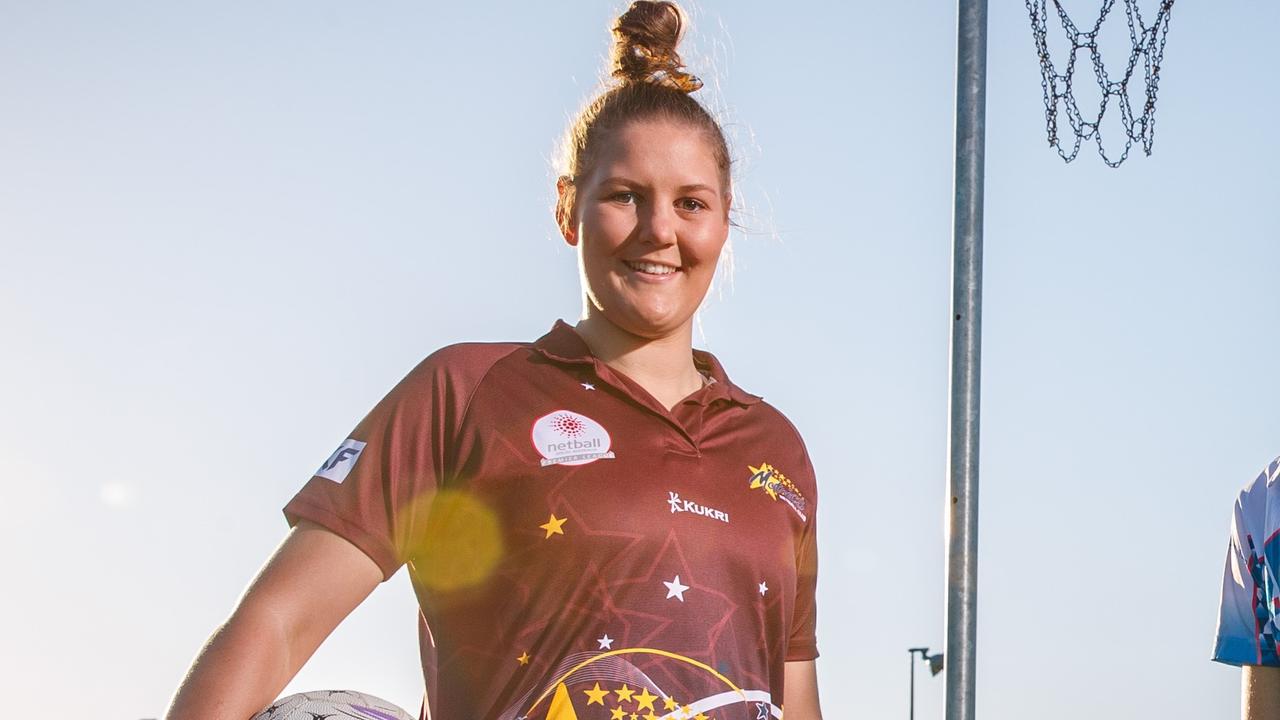 Matrics netballer Lucy Austin. Picture: Matt Turner
SOPHIE BARR (ROWING)
The 2020 rowing season was largely disrupted due to the COVID-19 pandemic.
But this St Peter's Girls' School student will be one to watch on the water in 2021.
Barr featured in the 2020 state championships and was part of the under-19 eight, under-19 four and under-19 two women's gold medal-winning crews.
She also finished first in the schoolgirl eight and schoolgirl four races.
Barr is in the SASI rowing program and, like Holland, hopes to be selected on the Australian junior team in 2021.
TEAGAN POWELL (HOCKEY)
The Port Adelaide Hockey Club youngster will be one to keep an eye on during this year's Premier League season.
Powell starred with the Magpies in their 4-2 grand final victory over Adelaide last season.
She was also selected in Hockey SA's 2020 under-18 state team, and the Adelaide Fire Hockey Academy.
The Wilderness School teen also claimed Port Adelaide's under-18 best and fairest, the club's most promising female award and a SASI hockey training agreement.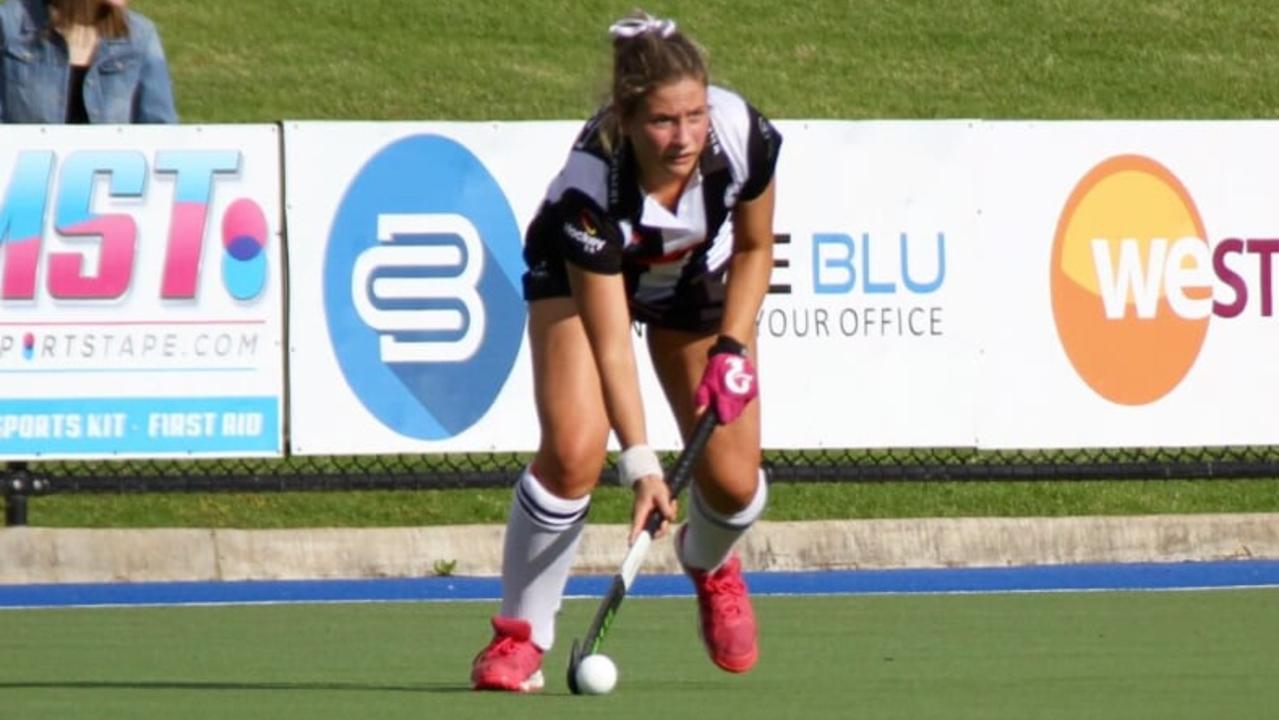 Port Adelaide Hockey player Teagan Powell. Picture: Supplied, Port Adelaide Hockey Club
WILLIAM BROWN (CYCLING)
At just 11 years old, William prevailed in all five of the 2020 state titles on the velodrome in the under-13 age group — including in the individual pursuit, scratch race, time trial and sprint.
He also won the 2020 Criterium State Championships and the 2020 Road State Titles.